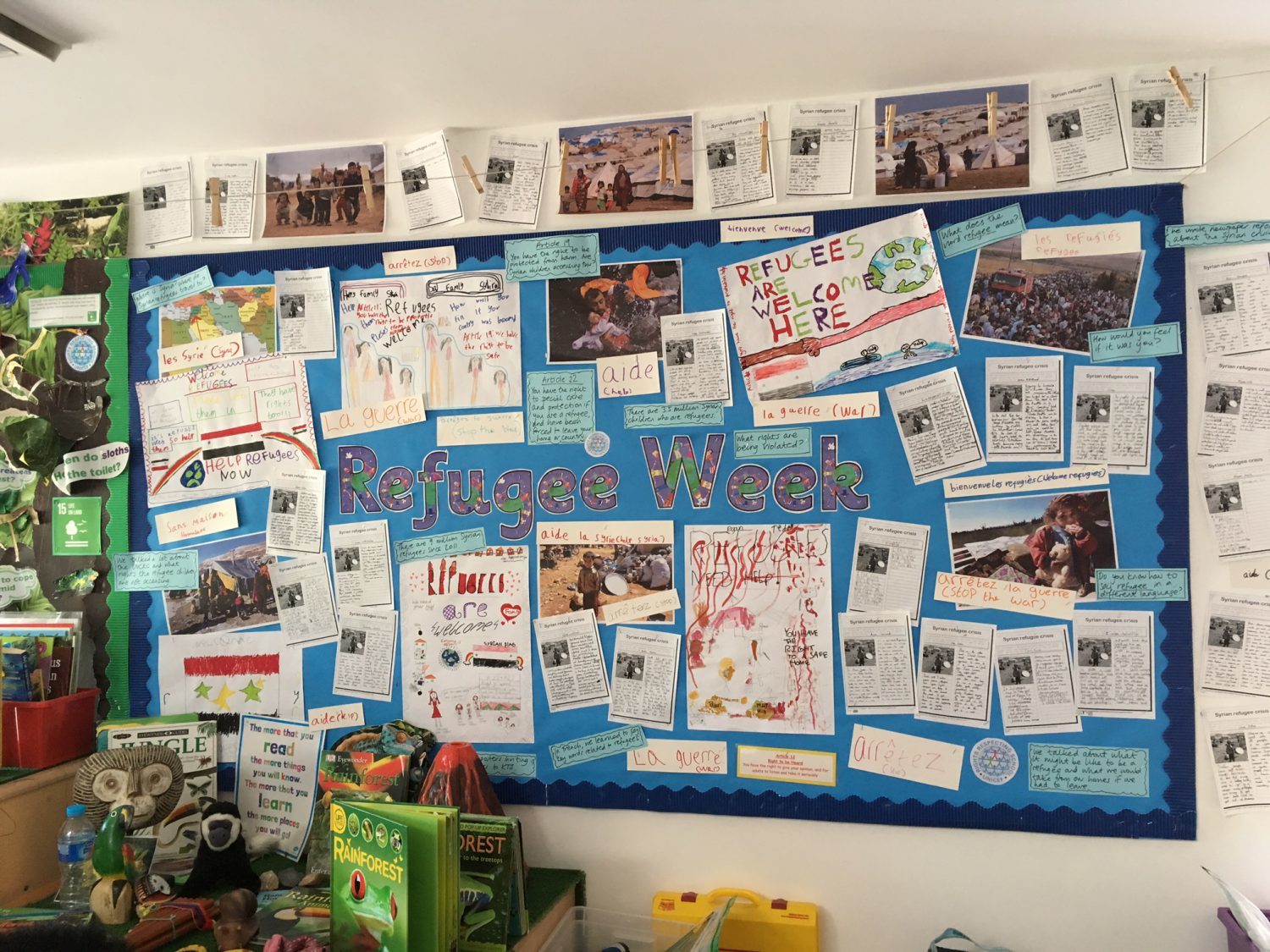 Taking children's rights out of the classroom
Making children's rights central to school life improves educational outcomes and provides a frame of reference for interpreting the world.
Kentish Town Primary School, assessed for the Level 2 Rights Respecting Schools Award (RRSA), has made use of the free Unicef refugee crisis teaching resource, In Search of Safety.
The teaching resource, produced as part of World Refugee Day, comes alongside Unicef UK's work to make sure that unaccompanied refugee children are reunited with their families.
Anna, a Year Six teacher and RRSA champion, supports the pack as teaching resource. "I think it's the most essential thing," she said. "Before it came out there were nerves about how to talk about it. Now the children understand that the rights of refugees are not being respected."
"The programme has helped with community cohesion and it's been extraordinary around the refugee crisis," said James, the school's headteacher. "The children were horrified this was happening, as these children have the same rights as them.
"The conversations post-Brexit have been amazing too, 'will we be able to live here?' for example. We've been able to have phenomenally sophisticated conversations with the children around this."
Knowledge of the UN Convention on the Rights of the Child, which comes as part of the RRSA journey empowers children.
Kainene*, Year Six, is a refugee from central Africa. She confidently showed the RRSA team around the School on the day of the Level 2 assessment, the night before she performed in the school production of Bugsy Malone.
"When we performed Bugsy last night Kainene didn't have anyone there," Anna said, "even though she has a large family. Another boy in her class had his parents and extended family there. Kainene understands that their families are different but they have the same rights."
The children have an understanding not only of their rights but the rights of others. On the morning of the assessment a team of student ambassadors presented an assembly showcasing where classes had used their knowledge to help tackle problems in their community.
Willow Class decided to help conserve turtles at a local wildlife reservation. Sycamore Class, concerned about levels of nitrogen hydroxide, decided to tackle air pollution. Beech Class carried out a sponsored "sleep-out" raising £2740 for two homeless charities.
Knowledge of children's rights has spread from the pupils at Kentish Town Primary School, with parents increasingly coming into the school to suggest further rights-based campaigning activity. "This is about outcomes," said James. "It's about empowering children to change the world and make it a better place."
*Names have been changed to protect the child's identity.