Donate to
protect children
in Ukraine
War in Ukraine places millions of children and their families in immediate danger.
More than half of Ukraine's 7.5 million children have now been forced to flee the ongoing violence. Homes, schools, water supplies and hospitals have been damaged or destroyed. Children have been separated from their families, and hundreds of thousands of people have been left without clean water, food or electricity. Explosives are a daily threat to children's lives.
We are working around the clock in Ukraine and at the borders of neighbouring countries, providing access to clean water, health care services and other critical support.
As the refugee crisis grows, our teams in Poland, Moldova, Belarus, Romania, Slovakia, Hungary and Czech Republic are working closely with our UN partners to provide more humanitarian aid for children and families on the move.
With your kind support, we can help more children and families affected by this crisis.
Please donate to help protect children in Ukraine. 
From 12th April- 12th June all the money generously donated to UNICEF UK fundraising appeals will be celebrated in our Soccer Aid annual totaliser. Celebrating all these donations as one total as part of Soccer Aid will in no way impact where your donation goes to – a donation to our Ukraine appeal will still go to that specific cause.  
Soccer Aid for UNICEF is the world's biggest celebrity football match, broadcast on ITV, supporting our amazing work around the world.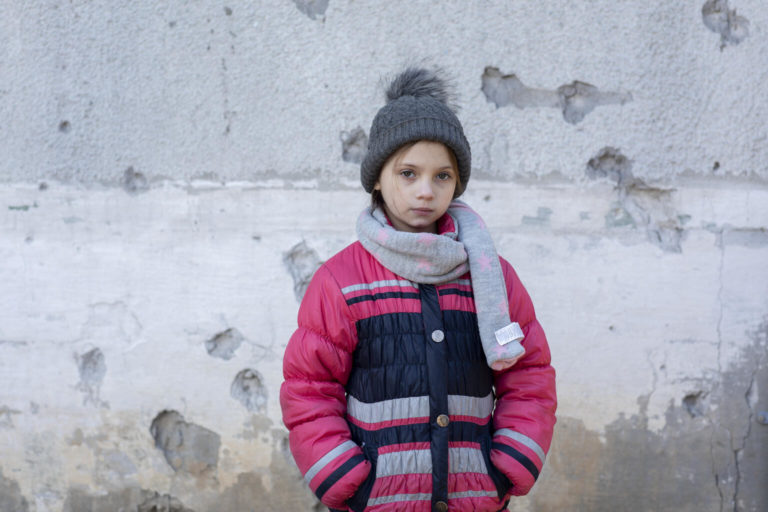 How UNICEF is helping children in Ukraine
We have been working tirelessly to keep children safe since this conflict began eight years ago and we are determined to remain in Ukraine to reach the most vulnerable children and families.
We have provided access to clean water to around 408,000 people in affected areas.
Working together with our partners we have provided an estimated 835,000 people in Ukraine with access to health care.
Nearly 250,000 children have benefited from learning interventions with supplies provided by UNICEF
To support and protect the millions of families who have fled Ukraine, we are working with local governments across neighbouring countries and the UNHCR and have created 17 Blue Dot safe spaces for children and women. These spaces provide key information to families seeking refuge, psychosocial support, water and sanitation supplies, and help in identifying and protecting unaccompanied and separated children.
We have partnered with Warsaw and Krakow municipalities to support 65,000 children from Ukraine to access education and learning opportunities.
Donating by phone
If you're in the UK and would prefer to make a donation by phone, you can call our dedicated donation line: 0300 330 5699.
You can help us reach more children affected by the crisis. Please donate today and help us protect children in Ukraine.
For the first 12 months, monthly donations made to this appeal will go towards funding UNICEF's work to support children in Ukraine. After that donations will go to our Children's Emergency Fund, to save and protect children in emergencies around the world. In the unlikely event that the funds raised exceed UNICEF's funding requirements for this appeal, your one off or monthly gift will also go to our Children's Emergency Fund.
Donating Items and Volunteering
We're currently not accepting any items for the emergency appeal. These kind offers are really appreciated, but any donated items will need to be sorted, cleaned and transported which could impact our response, so please consider making a monetary donation instead to our emergency appeals.
We're not currently sending any volunteers to Ukraine.
The best way you can help support our emergency work in Ukraine is to donate money to the appeal. Please give what you can, your donations will help us to protect children in Ukraine.
Company Donations
For information on how your company can support our appeal, please contact [email protected]
Find out more about our work in Ukraine