Work with us to create a world safe for every child
At UNICEF UK, we're united by our belief in a better world for children. By working here, you can help us change children's lives for the better everywhere.
As the UK Committee for UNICEF, we raise funds to help change and save the lives of children in 190 countries around the world. We lobby and campaign to ensure children are kept safe and their rights are upheld. And we work with schools, hospitals and communities here in the UK to ensure that children flourish.
We promote equality, diversity and inclusion in our workplace. It doesn't matter who you are or where you're from. If you share our values and are ambitious, talented, and motivated to make a difference for children you've come to the right place.
Our Shared Commitment
At UNICEF UK we believe in a happy workplace, and in the power of fulfilled colleagues who enjoy their work. Our Shared Commitment is a set of values, developed by and for our people, that sets out how we work together and the culture we want to create.
We're looking for people who share our values, and our passion for making a difference for children all around the world.
Our values
We put children first in everything that we have do.
We put children first in everything that we do. We believe in our mission and have collective, clearly-defined goals based on our mandate to give children an equitable chance in life. We prioritise our goals according to the positive impact on children, with people and resources all aligned behind these priorities. We act honestly and ethically and to the highest standards with our supporters, partners and suppliers.
We are empowered to have agency and take responsibility for our actions and their consequences, holding ourselves accountable for achieving our goals.
We monitor progress against the impact on children and reflect on how we got there; we celebrate successes, review challenges and learn constructively from both, so we can make greater impact still.
We work from an evidence-based solution-focused approach.
We create space for relevant data, facts and perspectives to be uncovered and shared so we know we're solving the right problem. We add to our insights through actively including the voice of children. We make decisions based on evidence and use our initiative to achieve our goals and mission.
We encourage healthy, respectful debate and create psychological safety for people to come up with different perspectives and ideas, build on them, experiment and learn. We capture and share stories of what works and what doesn't so we can all apply the learning from them.
Once we have agreed on a solution, we actively align behind it to ensure it is efficiently delivered to the agreed timescale and guidance.
We take time to build trust and take care to treat others with respect.
We depend on and trust our colleagues to do their best and uphold our core values and mission.
We respect our colleagues and what they bring, preferring to work in a non-hierarchical way, encouraging others to take the lead when appropriate.
We understand our impact on other people through proactively seeking feedback, and adapt our approach accordingly.
We embrace diversity and take pro-active steps to be inclusive.
We embrace diversity in all its forms, for what it brings to us and what it brings to our work for children. Diversity brings new perspectives, broadens our thinking and enriches lives. We create a sense of belonging for all colleagues by removing barriers to participation and creating space for all colleagues to be heard.
We are aware of our own privileges and power, and we intentionally ensure that everyone feels safe to contribute equitably. We strive to ensure our output is respectful of the communities in which we work.
We feel able to bring our full selves to work and take time to appreciate our colleagues as people. We do not avoid topics for fear of offending others, but we do approach such topics sensitively, knowing that when we make mistakes we will be challenged openly and kindly so that we may learn and improve.
We care about each other, our well-being and our development.
We care about children. We care about our work. We care about each other.
To make a sustainable difference to children's lives we must also take care of ourselves. We agree priorities and workloads so we can stretch ourselves but not feel overwhelmed.
We're human. We demonstrate compassion and support when people make mistakes, need some space or they're having a tough time.
We recognise our own and others' different needs and aspirations and we equitably support others' personal and career development.
We constantly seek ways to work together better to increase our impact on children.
What each of us does individually is important, but it is together that we achieve even greater results for children. We understand our mission, each other's goals and where others depend on us.
We actively build relationships within and outside UNICEF UK so we can respond agilely together. We create space for the truth to be heard and speak it kindly.
We make the most of our breadth and depth of expertise by engaging the right people at the right time. We openly share information across the organisation so people know what's going on, to promote synergy and reduce duplication.
Our work culture and environment
We believe in being able to choose the working environment that allows us and our colleagues to do our best work. That's why we have a flexible working policy that allows for staggered and compressed hours, working from home and more.
We understand that everyone has a life and responsibilities that work has to fit around. So we support our colleagues to manage a healthy work-life balance, to promote better wellbeing and professional effectiveness.
Our bright, open-plan office in Stratford, East London has quiet, collaborative and agile working spaces, and technology that supports us to do the best work for children.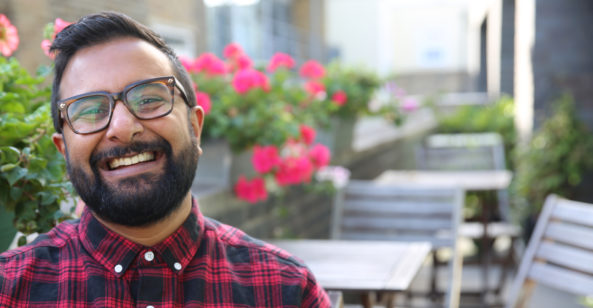 The opportunities we get given here are like no other charity. We work on incredible, innovative projects which are world changing for children.

The impact I can have with my colleagues here, be it through lobbying international governments, by working with our world-class ambassadors or partners, is like no other place I've worked.
Investing in you
We invest in our colleagues' personal and professional development and will offer you a range of paths on your learning journey. As a new employee, you'll learn more about UNICEF's work in the UK and abroad, and how different teams contribute to achieving our ambitious goals for children.
Our salaries are competitive and are benchmarked externally each year. You'll receive 25 days of annual leave from your start date, rising to 30 days with service. You'll receive access to a full range of benefits including Interest-free Cyclescheme, Season Ticket and Learning Loans, generous pension benefits, childcare vouchers and discounts on big brands.