Donate to
protect
children in Ukraine
Help protect children in Ukraine.
It's been almost two years since the escalation of the war in Ukraine on 24 February 2022. A generation of children in Ukraine has spent more than 600 days engulfed by violence, fear, loss and tragedy.
4.1 million children in Ukraine need support.
"Millions of children are going to sleep cold and scared and waking up hoping for an end to this brutal war. Children have been killed and injured, and many have lost parents and siblings, their homes, schools and playgrounds. No child should ever have to bear that kind of suffering." said Catherine Russell, UNICEF Executive Director.
The situation is especially acute for the 3.7 million people who are currently displaced within Ukraine.
We are working around the clock in Ukraine and at the borders of neighbouring countries, providing access to clean water, health care services and other critical support.
With your help, we can help more children and families affected by this crisis.
Please donate to help protect children in Ukraine.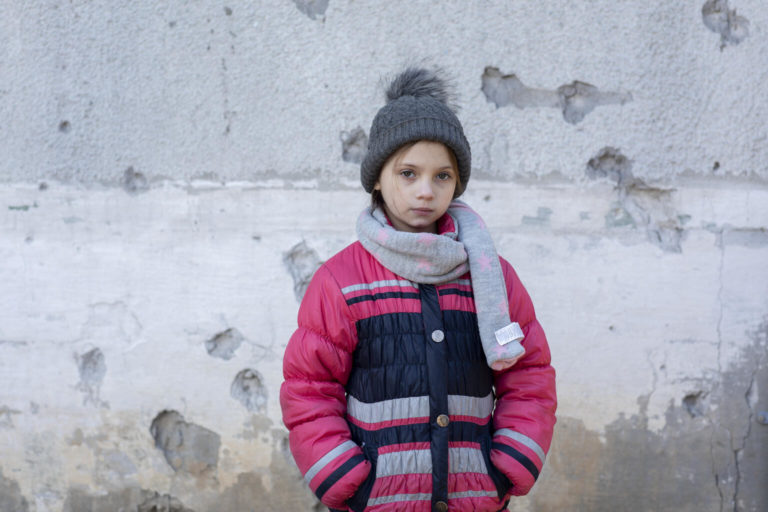 How are we helping children in Ukraine?
Through your kind support, we have helped:
4.6 million people receive healthcare
4.5 million people access safe drinking water
More than 2.3 million children and caregivers get mental health support 
Over 1.1 million children engage in education
We are working closely with our UN partners in Poland, Moldova, Belarus, Romania, Slovakia, Hungary and Czech Republic, to help provide humanitarian support for children and families fleeing the war.
Additionally, we have also created Blue Dot safe spaces for children and women in collaboration with the local governments and the UNHCR. These blue dot shelters provide a safe space for families seeking refuge as well as providing water and sanitation supplies.
How can I help?
In 2023, we want to ensure that:
5.3 million women and children have access to health care
5.7 million people are provided safe drinking water
3.8 million children and caregivers access mental health support
We recognise that these are hard times so please give what you can, your donations will help us support the most vulnerable in Ukraine.
Donating by phone
If you're in the UK and would prefer to make a donation by phone, you can call our dedicated donation line: 0300 330 5699.
Donating Items and Volunteering
We're currently not accepting any items for the emergency appeal. These kind offers are really appreciated, but any donated items will need to be sorted, cleaned and transported which could impact our response, so please consider making a monetary donation instead to our emergency appeals.
We're not currently sending any volunteers to Ukraine.
The best way you can help support our emergency work in Ukraine is to donate money to the appeal. Please give what you can, your donations will help us to protect children in Ukraine.
Company Donations
For information on how your company can support our appeal, please contact [email protected]
For the first 6 months, monthly donations made to this appeal will go towards funding our work to support children affected by the Ukraine conflict. After that, donations will go to support our work around the world. In the unlikely event that the funds raised exceed what's needed for the appeal, we will direct any excess funds to support our work to help keep children safe and healthy around the world.
Find out more about our work in Ukraine