Speak out on children's rights, with OutRight!
Every year OutRight empowers children and young people to realise their own rights, and speak out in support of the rights of all children.
The coronavirus pandemic has already had a significant impact on the lives of children and young people: we want to empower them and demonstrate that their voices matter: but we need your help.
The 2020/21 campaign is all about climate change and children's rights: resources are available now so sign up here to access everything you need.
Don't worry if you've not taken part before: the campaign is open to all schools, youth clubs and youth organisations and we're on-hand for any questions you may have.
Join us!
Sign up now to help young people learn about children's rights and ensure their voices are heard by decision-makers.
Who can take part?
It's a campaign by young people, for young people.
Any school, youth club or youth organisation in the UK can take part! We'll provide everything you need to run the OutRight campaign in your setting. Resources are available now to everyone who registers.
We've worked hard to make sure that children and young people of all ages can take part and hope you find the resources useful.
When does OutRight take place?
OutRight happens every year and starts every September, with a key moment for children to use their voices on 20 November: World Children's Day. Groups can participate in activities at any time during the year though and we hope that makes it even easier for children to get involved and use their voices.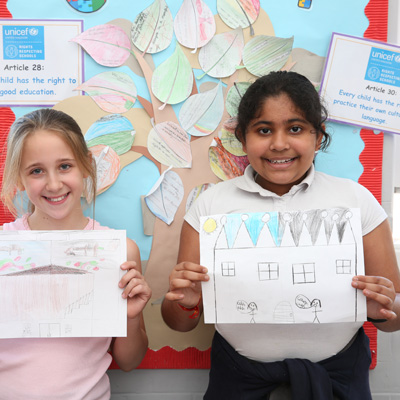 Previous Campaigns
Over the years children and young people taking part in OutRight have learned about and spoken up on issues including:
the rights of refugee children
air pollution
the 30th anniversary of the UN Convention on the Rights of the Child
You will find a selection of resources from previous campaigns here.
Any other questions?
If you have any questions about the campaign, just email us at  outright@unicef.org.uk