"Visiting Jordan's Refugee Camps Showed Me What Soccer Aid for UNICEF Is All About"
In 2018 Dermot travelled to Jordan, to see UNICEF's work on the ground. Dermot met with children and their families based at the Za'atari refugee camp.
During his trip he met with Rob Jenkins who was, at the time, the country representative for UNICEF within Jordan. Rob is now Chief of Education for UNICEF globally and he joined Dermot on his Audible podcast 'People Just People'. Rob has worked with UNICEF for many years building a wealth of experience on the ground overseeing projects in Somalia, Uganda, Bangladesh, Myanmar, India and Mozambique. And most recently dealing with the Syrian refugee crisis in Jordan.
Following his trip, Dermot also penned a first person blog post for Huffington Post, reflecting on his experience.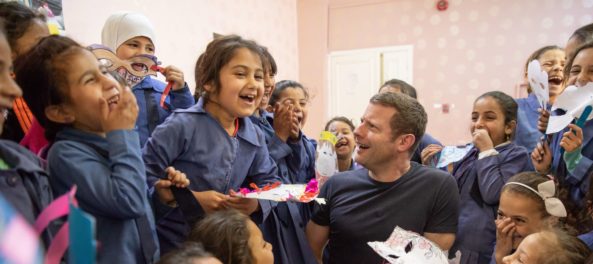 UNICEF is all about and for children, wherever they are from. Their programme work gives children access to the tools they require to build a viable future. It's the same the world over, from rural Kenya to East London. Give children an education, academic, societal, vocational, and they have a shot.
Dermot O'Leary, following his trip to Jordan in 2018
Dermot's time with UNICEF
TV and radio presenter Dermot O'Leary has hosted Soccer Aid for UNICEF since 2010.
Dermot has provided invaluable support for numerous petitions and fundraising campaigns via his social media platforms – amplifying UNICEF's message to his dedicated and passionate followers.
He has not only generously donated his time in UNICEF's name, but also his network – Dermot donated a brilliant X Factor prize to 2018's Halloween Ball, which raised a fantastic sum.
Dermot became an official UNICEF UK Ambassador in 2020.