Keeping baby Doa'a alive
Even before the war in Yemen began, Doa'a's family struggled to get by. Now the conflict has caused the price of food to skyrocket. The money her father earns making beds isn't even enough to feed his family.
As a baby, Doa'a was particularly vulnerable. She was soon suffering from severe acute malnutrition with major complications. "When I looked at my daughter, I was pretty sure she would not survive but I didn't give up," her father says emotionally as he remembers the day he "borrowed money to take her to the nearest health centre".
Doa'a was in critical condition when she arrived at a Unicef-supported therapeutic nutrition centre. She was unable to be breastfed and had developed pneumonia. Just in time, Doa'a was able to receive the medical treatment and therapeutic food she needed to survive.
Sadly, Doa'a's story is far from unusual in Yemen, and many aren't as lucky as she was. Nearly 400,000 children here are severely malnourished and fighting for their lives. Unicef is doing everything it can, delivering life-saving aid to hundreds of thousands of children. But as the war continues, the situation is getting worse.
How is the conflict in Yemen affecting children and how is Unicef responding?
More than three years of fighting has pushed Yemen to the brink of collapse. The children there are currently caught up in one of the world's most complex and destructive humanitarian crises and are paying a heavy price.
Access to food is severely limited, causing widespread malnutrition
The fighting in Yemen has severely limited the amount of food that can be imported into the country, causing major shortages and skyrocketing food prices. As a result, 1.8 million children in Yemen are currently acutely malnourished, and 400,000 are suffering from life-threatening malnutrition.
Unicef has delivered thousands of tonnes of nutrition supplies for children and continues to support nutrition centres and train staff. But the situation is getting worse, which creates even more challenges.
Fierce fighting puts children at risk of injury and death
More than 2,575 children have been killed and 4,064 children injured since the outbreak of the conflict. Actual numbers are likely to be much higher.
Unicef is doing everything it can to help the children affected. Over 450,000 children have been able to access psychosocial support in child-friendly spaces and 1.1 million people have been reached with education about mine risks.
Deadly diseases spread rapidly
Fighting has severely damaged infrastructure in Yemen, affecting access to clean water. At the same time, many hospitals and medical centres have either been damaged, destroyed or cannot afford to pay staff. Shockingly, as a result, at least one child dies every ten minutes because of preventable diseases.
Last year Unicef reached 5.4 million people in response to a major cholera outbreak. We have also helped to vaccinate 4 million children against polio. But there is still much more work to do.
Millions of children are unable to go to school
2,500 schools in Yemen are out of use because of the conflict. Many children have also been forced out of school because they have to work to help their families survive. In total, 3.7 million children in Yemen are being deprived of their right to an education.
Unicef is providing school and distance learning opportunities to as many children as it can. So far we have supported over 150,000 children with access to learning, but there are many more to reach.
Help Unicef keep children in Yemen safe
Just £48 could provide 2 months' worth of life-saving peanut paste to bring a severely malnourished child back to health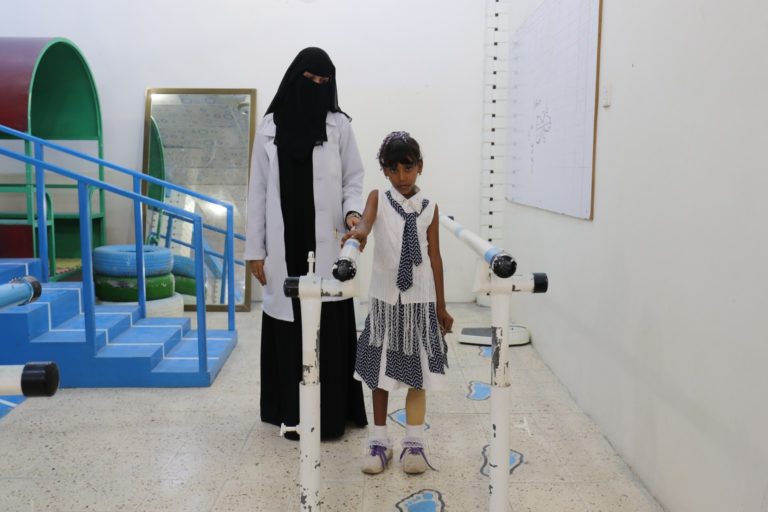 I will never forget that day, it made a scar in my heart but I will never give up. I hope that this war ends and we can finally live in peace.
Giving children like Rania hope for the future
When the conflict forced 12-year-old Rania and her family from their home in Hodeidah life became very difficult. Rania was forced to split her time between studying and working, so she could make the extra money that her family needed to survive. For a year, Rania's grades suffered and her dream of one day being a dentist faded.
However, eventually, Rania was able to attend a Unicef-supported summer school, that gives girls who have missed out on education an opportunity to catch up with their peers. "It was not just a summer vacation for Rania. It was a period of renewal and recovery for her childhood" the school principal says.
Unicef 's priority in Yemen is the immediate emergency needs of the people there. However,  it's vital that we also think about the long-term development of the country and the future of its children.
We aren't giving up hope on the children of Yemen, and we never will.