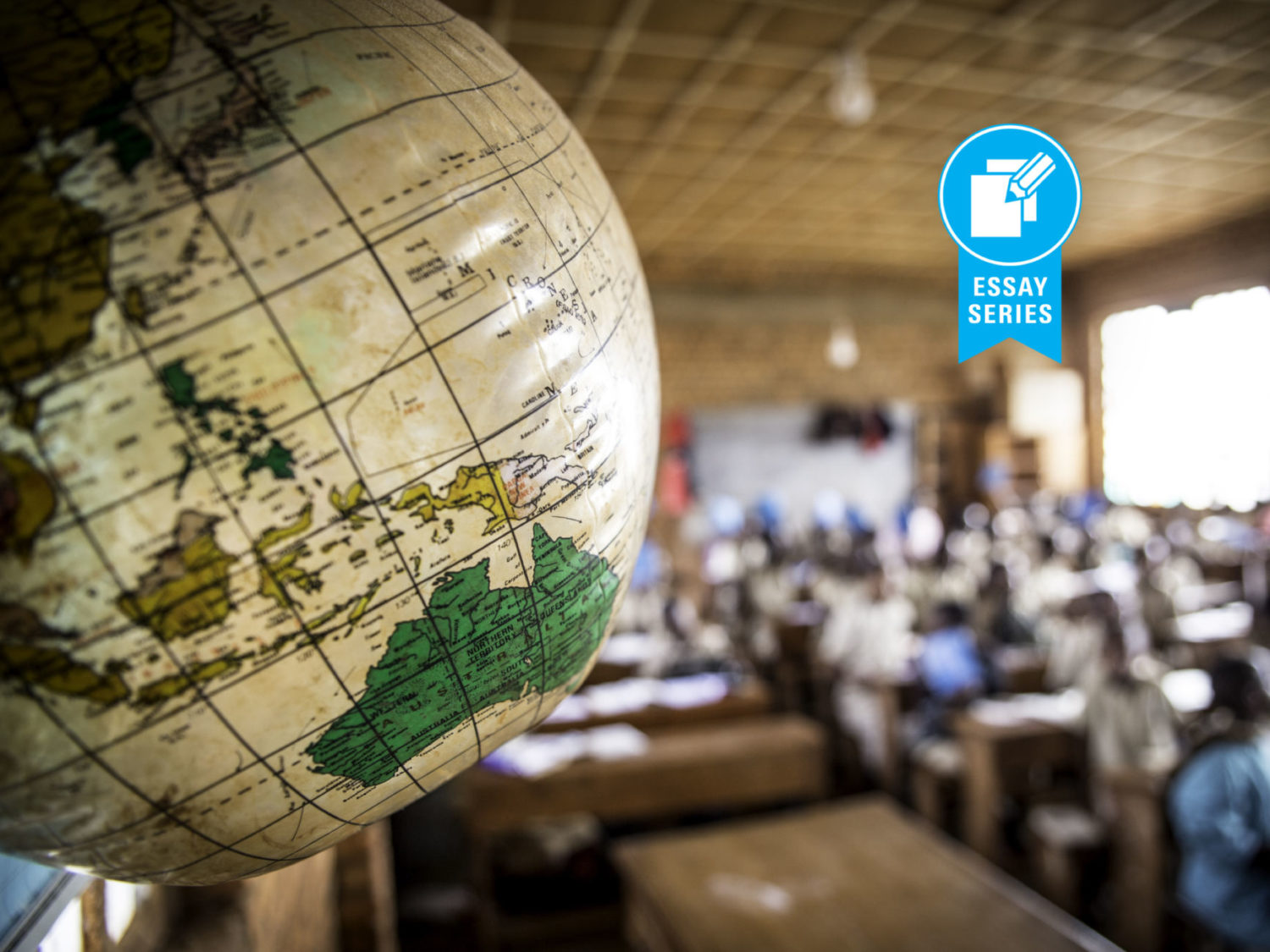 Global Britain: Becoming a leader for child rights at a time of crisis
As the United Kingdom considers what it means to be Global Britain, the UK Committee for UNICEF (UNICEF UK) has commissioned a series of essays written by senior global leaders.
COVID-19 has changed our world forever. It is tearing economies apart and badly damaging the safety nets that protect children. Years of progress on children's rights, health and wellbeing is being undone. Yet as we emerge from the pandemic's upheaval it will not merely be good enough to return to pre-pandemic business as usual. Now is the time to pause, reflect and build new ambition.
As the UK Government develops its new international development strategy, it does so at a time where the future of a generation of the world's children will depend in part on the choices Britain makes.
This UNICEF UK Essay Series seeks to better understand the issues facing children today and consider how Britain can use its diplomatic and financial leverage to protect and promote child rights around the world.
Table of contents
Scroll down for the full essay collection with summaries or click here for the table of contents
Table of contents
Introduction: Becoming a leader for child rights at a time of crisis
COVID-19 has impacted and continues to disrupt children's lives and compromise their most fundamental rights in many ways. But the pandemic provides a critical window of opportunity to create and re-imagine a healthier, safer, fairer, more equitable and inclusive world for today's children and future generations. And Global Britain has a unique role to play in leading unprecedented and transformative action to deliver for the world's children.
A turning point to end acute poverty
In this essay, Sabina Alkire writes that although COVID-19 has increased poverty countries are pivoting towards new investments in social protection, health systems and economy. With the rights strategies in place, the UK could support a multisectoral approach to poverty that make this year a turning point towards ending acute poverty in all its forms.
Tackling climate change: an intergenerational conversation
In this essay, Mary Robinson is in discussion with Isabelle, Nkosi and Priyanka – three youth climate advocates. They reflect on the power of the energy and dynamism of the youth and experience of the older generation to tackle the climate crisis, and call for inclusive, sustainable and truly global efforts to build forward better post-pandemic.
Mary Robinson with Isabelle, Nkosi and Priyanka – three youth climate advocates
Former President of the Republic of Ireland and Chair of the Elders, in discussion with three young climate advocates, Isabelle, Nkosi and Priyanka
Read Mary Robinson et al's essay
A humanitarian system for the protection of children
In this essay, Elhadj As Sy tells us that the preservation of humanity starts with the care, support and protection of children, particularly in the hardest-to-reach places. Caring for children in today's traumatized world contributes to a better future for all because by investing in children in fragile settings we will seed greater cohesion, peace and development.
Elhadj As Sy
Former Secretary General, International Federation of Red Cross and Red Crescent Societies
Read Elhadj As Sy's Essay
A healthy future for the world's children
In this essay, Helen Clark, Awa Coll-Seck, and colleagues Dr Sarah Dalglish and Bethany Jennings highlight the multiple and overlapping threats and challenges faced by today's children, impacting their health and well-being and call for children to be put at the centre of all policies.
Helen Clark, Awa Coll-Seck and colleagues
Helen Clark is the former Prime Minister of New Zealand. Dr Awa Coll-Seck is Senegal's Minister of State.
Read Helen Clark et al's essay
A coordinated response to child malnutrition
In this essay, Kitaoka Shinichi warns of the impact of COVID-19 on child hunger and the irreversible damage of malnutrition on children's growth and development. In 2021, Japan hosts the Tokyo Nutrition for Growth Summit 2021, and Shinichi reiterates the role of the UK in tackling the global challenge of malnutrition.
Radical inclusion in education
In this essay, David Sengeh underlines the systemic barriers to access to education – poverty, gender, disability – and calls for radical inclusion approach to education, so that every child can get educated and learn the skills they need to become active citizens.
The role of business in tackling climate change
In this essay, Sanda Ojiambo highlights the role of businesses in tackling climate change, and the critical importance of bold action by the business community in creating a more equitable, healthier, safer and peaceful world for children.
Building a fairer, safer world for children through science
In this essay, Lord Martin Rees discusses how science and technology and the active engagement of young people can help engineer an unprecedented move towards solving the world's newly emergent threats.
Britain as a multilateralist global soft power
In this essay, Kul Gautam calls for a multilateral approach to tackling global challenges and sets out a 4-point agenda for the UK, including placing children at the centre of international development cooperation and diplomacy to deliver for the world's children now and in the future.
Advancing the rights and wellbeing of children through trade
In this essay, Senator Casey reflects on the disproportionate impact of current trade rules on the most vulnerable, especially children, and calls for a commitment to turn trade into a force for good for children and their families.
The future for Africa
In this essay, Mo Ibrahim puts the spotlight on the impact of COVID-19 on Africa which is facing a dramatic second wave. It reminds the UK of role of the continent in moving the world forward whether it is on digital economy, a greener planet or energy and infrastructure, and the importance of ensuring young people's access to skills and training that will allow them to realise their potential.
Conclusion
As world leaders begin to shift their attention on a post-pandemic world, returning to "business as usual" is not an option. 2021 is a year of Summits. But transformative commitments must be made and words turned into decisive actions. As the UK develops its new international development strategy and takes a prominent role on the global stage, it must ensure that "Global Britain" becomes a leader for child rights.